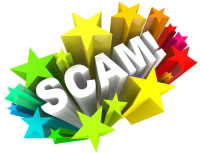 Each year, the IRS issues its "Dirty Dozen" list of tax scams in an effort to raise awareness and prevent consumers from falling victim to tax fraud. These scams can come in many forms and taxpayers may not be aware they've been targeted until it's too late. With the tax filing deadline fast approaching, millions of taxpayers across the country are still scrambling to get their returns in order. If you haven't filed your taxes yet, you need to be on the lookout for the following tax-related schemes.
Tax identity theft is a growing problem and not surprisingly, it tops the Dirty Dozen list for the second year in a row. The biggest culprit is refund fraud, which occurs when an identity thief uses your name, Social Security number, birth date or other personal information to file a tax return in order to get a refund. In an effort to combat the problem, the IRS has developed a comprehensive plan to identify suspects participating in identity theft scams and prevent the issuance of fraudulent refunds. The number of agents working on identity theft cases has doubled since 2011 but the IRS urges consumers to review its website for tips on protecting personal information.
Phishing
Phishing scams typically involve the solicitation of your personal information using emails, phone calls or phony websites. While the individual or organization contacting you may seem legit, you could be putting yourself at risk for possible identity theft. If you receive an email, letter or phone call that you suspect may be part of a phishing scheme, you're urged to report it to the IRS via email at [email protected] You should also keep in mind that the Internal Revenue Service will never contact you via email or make any electronic request for your personal information.
Tax Preparer Fraud

According to the IRS, approximately 60 percent of taxpayers will seek professional help with their taxes in 2013. While the majority of tax experts are only concerned with helping their clients, a select few engage in behaviors that are designed to prey on unsuspecting consumers. The IRS reminds taxpayers to only use a preparer who signs your return and enters their Preparer Tax Identification Number (PTIN). You can find more tips on choosing a tax professional on the IRS website.
Hiding Income Offshore
While many tax scams target innocent victims, there are certain situations where taxpayers may actually participate willingly. One of these schemes involves hiding money held in offshore bank accounts. Failure to properly disclose assets held in offshore accounts for tax purposes could result in a penalty of up to $100,000 or 50 percent of the total balance, whichever is greater. In 2009, the IRS implemented a voluntary disclosure program, which has resulted in the collection of $5 billion in back taxes, interest and penalties from individuals who illegally participated in offshore account scams.
"Free Money" Scams
So-called "free money" scams typically target low-income and elderly individuals by making them promises of big refunds if they claim credits or deductions they're not entitled to. Victims are targeted through flyers or mailers, which effectively suggest that it's possible to file a return and get a refund with little or no documentation. In recent years, one of the more popular scams has involved elderly victims who were advised to claim the American Opportunity Tax Credit, even though they weren't enrolled in college or paying education expenses for a qualifying dependent. If you receive a free money offer that seems to good to be true, it's a safe bet that it probably is.
Fake Charities
Donating money, household items or other property to charity is a great way to give back and it can also earn you a big tax deduction. Unfortunately, there are certain individuals who prey on the generosity of others through charitable donation scams. According to the IRS, fake charities tend to appear most often following a natural disaster when people are more likely to give. They may have names that seem similar to reputable organizations and even set up seemingly legitimate websites. They solicit donations via emails, letters or telephone calls and their victims are none the wiser. Before you donate cash or property to charity, use the IRS's Select Check to make sure they're a qualified organization.
Inflating Income/Expenses
When tax times rolls around, everyone wants to make sure they're getting the biggest refund possible. Reporting more income than you actually earned or exaggerating your expenses can put more money back in your pocket but it can also result in a hefty penalty if the IRS catches on.
False Form 1099 Refund Claims
Another scam involves filing a Form 1099 Original Issue Discount (OID) to get a fraudulent refund. This is a long-running scam that's based on an incorrect theory that the federal government maintains "secret" accounts for citizens. The scammer convinces the victim to file the Form 1099 to gain access to the money but the reality is you could be subject to significant fines or even jail time.
Claiming Zero Wages
Scammers may falsely try to convince you that you can eliminate your tax liability altogether by claiming zero income. Typically, this involves filing a fake federal Form 4852 or a "corrected" Form 1099. These phony forms may include language that explains why the income that was originally reported on a W-2 or 1099 doesn't fit the IRS definition of wages. If the IRS determines that you falsely reduced your wages, you could get hit with a $5,000 fine.
Misuse of Trusts
Transferring your assets into a trust can help you avoid probate, potentially reduce estate taxes and ensure the financial security of your heirs. When used properly, a trust can be a valuable tool for estate planning but it can also create financial headaches if you become the victim of an illegal trust scheme. If you're planning on setting up a trust, the IRS encourages you to seek the advice of a trusted tax professional to make sure your assets are protected.
Disguised Corporate Ownership
This tax season, the IRS is shining a spotlight on companies that attempt to hide their identities by establishing third party entities or corporations to disguise ownership. Using this type of front, businesses can engage in tax fraud by underreporting income, claiming deductions or credits they're not entitled to or even laundering money.
Frivolous Arguments
A frivolous arguments scam typically involves urging taxpayers to make ridiculous claims in order to avoid paying the taxes they owe. For example, claiming that filing a tax return is purely voluntary is considered a frivolous argument. The IRS maintains a complete list of frivolous arguments taxpayers should avoid.
Falling victim to a tax scam could end up costing you big if your refund is stolen or you're hit with a tax penalty. Knowing what to watch out for can ensure that you don't end up in hot water with Uncle Sam.