IRS Financial Hardship: Forms & Other Resourced Needed to Prove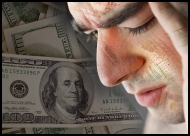 Most taxpayers who are in debt to the IRS are simply unable to pay. These individuals have no assets, no cash, and no job. And even despite this, the IRS will continue to hound them for money. If this pertains to you, know that you don't have to sit back and take the IRS's abuse. There are certain ways to have your account placed in "Hardship" or "Currently not Collectible" status.
If you are sure that there is no way you can pay your debt now or in the near future, "Hardship" or "Currently not Collectible" Status is for you. Gather all documents proving that you cannot pay your debt. For example, a person may be on disability and unable to work. The individual would need to gather hospital and government records to prove their case to the IRS. Other things like pay stubs and the copies of all monthly bills should also be included.
After the proof is gathered, sending it to the IRS along with IRS Form 433A is the next step. Form 433A is going to require very detailed information about your financial situation, so expect to provide the total monthly costs on all the following:
Food

Housekeeping Supplies

Apparel & Services

Personal Care Products & Services

Transportation

All Utility Costs

Rent/Mortgage
Even if you do not qualify for "Hardship Status," proving that you are in dire financial situation is important if you want to qualify for some other common IRS programs. You need to show that you have very little disposable income if you apply for any of the following:
Another important thing to note is that when you are considered a hardship case, you cannot spend more than what the IRS considers the "National Average" on your basic needs. Below are the monthly National Standards defined by the IRS as of March 1, 2010:
Applying to One Person:
Food: $293

Housekeeping Supplies: $28

Apparel & services: $86

Personal care products & services: $32

Miscellaneous: $87
Proving Financial Hardship to the IRS is not going to be easy. You have to display true financial hardship for your account to be placed in a Currently Not Collectible or Hardship Status. Only a small percentage of people meet the rigid standards for this program. If you have any assets than can be seized or sold to pay the debt, you will not qualify for this status. You are more likely to prove Financial Hardship if you hire a qualified Tax Professional to handle your case.
Help Proving Financial Hardship & Info

Currently Not Collectible
Prove to the IRS that you do not have the means to pay your back taxes with your current financial standing. Hold of IRS until you can pay or until statute of limitations expires.
File Back Taxes

File back taxes if you still have returns outstanding. You will be required to file all returns before you can receive any type of settlement with the IRS. The sooner you file the better to eliminate more penalties and interest.
Eliminating Penalties through Abatement

Eliminate your penalties with abatement if you have a legitimate excuse for not meeting the filing deadline.
Options When You Can't Pay Taxes On Time
Your options if you can't pay taxes that are due when tax time rolls around. Regardless of you having the money or not, taxes are still do, and you should know your options if you can't pay.