Missing, Lost or Never Received A W2? What To Do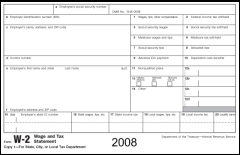 As you prepare to file your taxes, whether it be for the past or present, you will need to have your W2 in order to accurately pay and file current or old taxes. The W2 is also called the "Wage and Tax Statement," and is a document created by the IRS. Whatever year you are filing for, you need to make sure you have a W2 from your employer or at lest be able to retrieve the numbers you need from it. For 2010 statements, Employers, by law, have until February 1st, 2011, which means you should be concerned if do not get it by mid February.
Here Are A Few Ways or Steps On How To Request Your W-2
1) Contact Your Employer
If you are looking for past W2s, you can contact your previous or current employer for your W2. Sometimes, if you change your address, it can get lost in the mail. If you need a W2 for an employer that is no longer in business, then you will need to read on. When requesting any W2 from an employer, make sure you ask how long they think it will take.
2) Contact the IRS Via Phone
If you cannot obtain your W-2 from your employer or previous employer, call the IRS at 1-800-829-1040. When you call the IRS make sure you have the following:
– Employers Name, Address, City, State, and Zip
– Your Social Security Number, City State, and Zip
– Estimation of wages earned, withheld, and how long you worked at that job
When trying to figure out your estimate, you can always look at your last pay stub or pay statement or even a mid-year statement to make an approximation for payment, as you can always request an extension to file (which is not an extension to pay).
3) Contact the IRS and Request W-2 Information Using Form 4506
Information you would get from a W-2 for the current year will not be available from the IRS until the year after the return has been filed. You can obtain the information you need from the IRS for free by filing out Form 4506-T (Request for Transcript of Tax Return) specifying your dates you wish to receive. Be sure to read the instructions on 4506-T, and check number 8 on the form if you want W-2 Information. To get a copy of Form W-2 and not just the information, you need to use Form 4506 – Request for Copy of Tax Return. Each year requested will cost you $57 dollars. Read the directions on the form and make sure to send a check made out to the US Treasury for the total amount if using Form 4506.
What To Do If You Need To File Now and Don't Have Your W-2?
Send Form 4852, Substitute for Form W-2, Wage and Information Statement

Before doing the latter, check to see if a software provider like TurboTax can retrieve the information so you don't have to potentially amend your tax return later. If not, submit Form 4852. When you submit Form 4852, make sure you submit your 1040 form because you still need to file your taxes even if you do not have your W-2. Just do the best job you can in estimating withholdings and earnings. If you expect a return, realize that it will take some time for the IRS to review the statement and verify that the numbers are right. If you have multiple W-2's, you will need a separate form for each.

The IRS may let you know of any discrepancies later once they review your estimation vs the actual data. However, if you realize discrepancies first (e.g. you received a W-2 after you completed this step) then you need use Form 1040X. This form is called Amending a US Individual Tax Return. It is best to work with a resolution firm or use a software program as many taxpayers are susceptible to mistakes due to the complex code. If you face difficulties, work with a tax professional such as a CPA, registered preparer, Enrolled Agent, or tax attorney.

Here, you can read more details on Amending A Tax Return.