Settle Back Taxes: Back Tax Settlement Methods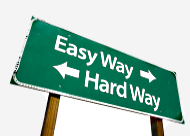 Methods To Settle Back Taxes Owed
There are many methods to settling back taxes with the IRS. The IRS has created settlement methods for every type of financial situation. There are thousands upon thousands of people that cannot pay taxes owed annually. The worst thing you can possibly do is just ignore the problem. If no agreement is made with the IRS, penalties and interest grow very quickly. Below are the settlement methods available under the IRS.

IRS Tax Settlement Help & Info
Back Tax Settlement Help
Do you need help settling taxes? A Tax Team of tax attorneys, CPA's, and IRS Agents can find the best tax settlement method for your situation. Quickly find out through a professonal which settlement method would be best for you!
Guide to File Back Taxes
Before settling back taxes owed all back taxes must be filed. Here is a guide on how to file any unfiled tax returns that you have.
Eliminating Penalties through Abatement
If you have a valid excuse for not being in compliance with the tax code it is possible to reduce or eliminate your penalties through penalty abatement.
Protecting your Assets from IRS Seizure
How to protect your assets from the IRS if you know they are planning on imposing a levy on your assets.
Tax On Debt Settlement
Understand how the IRS tax on debt that is settled, canceled, or forgiven works. Find out exceptions to reporting settled debt as income on your tax return.
Income Tax Negotiation
Understand when taxes can get negotiated for less and what methods can be used. If you do not qualify for a settlement, know what other options you have to resolve your unpaid taxes.